FLTC Coaching Staff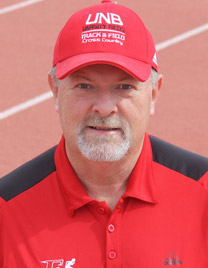 Carl McIntosh
Contact: Tel: 357-8074 E-mail: frederictonlegiontrackclub@gmail.com
Program: Athlete (Jumps, Mid-Distance, Sprints)
Master (Jumps, Mid-Distance)
UNB (Jumps)
Training (NCCP #975092):
NCCP Level III certified (Jumps)
NCCP Level II certified (Sprints & Hurdles)
NCCP level III trained (Distance)
Experience:
FLTC (2001- now)
UNB Track and Field Varsity Team, Jumps (2010-now)
NB Legion National Team, Head Coach, (2014)
NB Canada Games Team, Event Coach (2013)
NB Legion National Team, Event Coach, (2006,2011)
NB Canada Games Team, Event Coach (2009,2013)
Varia: Recipient of NB Coach's Excellence Award (2012,2013)
---
FLTC is proud to present the coaching staff. Coaches have an important impact in the life of the athletes. Coach's appointments are renewed every year by the FLTC Executive Board. The coaching staff is committed to provide a save and interesting environment where the athletes of all age and level can achieve their goals. The coaches are encouraged to perfect their knowledge and abilities. They collaborate with each other in order to offer expertise for all events of track and field. FLTC coaches have to be NCCP trained or certified and have to file a Criminal Record Check for volunteer working with vulnerable population every year.
---
Fredericton Legion Track Club - Training athletes for more than 50 years.